Welcome!

Saturday the 15th of February
We areclosing early due to train cancellations, at 3pm.
Please accept our apologies for any inconvenience that this might cause.
Jon & Becky
We have moved!
Wednesday the 31st of July: We finally finished moving out of our old shop just before midnight last night!
Our new shop now needs a lot of organising, but we will be packing up for our temporary relocation to Sidmouth Folk Week today - more details to follow.
3rd - 13th July Devon Strings is moving!
We are moving the Devon Strings Workshop to it's new home at 3 Guinea Street, on the corner of Market Street (off the top of Fore Street). You can find the location of our new shop on Open Street Map.
We will be closed whilst we move, but can arrange appointments. If you would like to arrange to see us please phone 01392 433748 (you can leave a message if there's no reply) or email us at enquiries@devonstrings.co.uk
Please accept our apologies for any inconvenience caused.
Jon & Becky
Devon Strings on CNN!
We were filmed for The Revealer, on CNN, recently.
The programme is now available online on the
CNN website.
Please see our
Facebook page
for our impressions of this unusual instrument!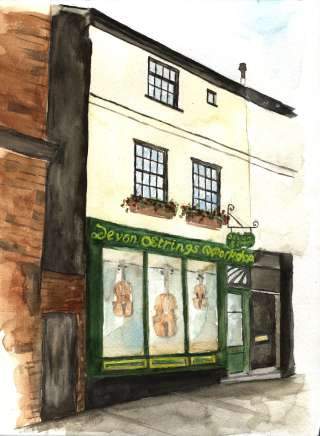 We are a professional violin shop and workshop in Exeter, Devon serving players of all levels.
We offer a good range of violins, violas and cellos, bows, strings, cases, sheet music and accessories suitable for beginners to professionals.
We discount all violin, viola, cello and double bass strings by 10%!
We are professionally trained violin makers, experienced in the repair and restoration of violins, violas and cellos, and also mandolin family instruments. All the instruments that we stock are offered properly set up - with a hand carved bridge, a good quality well adjusted soundpost, well fitted pegs, accurately shaped fingerboard (essential for accurate intonation) and good quality strings.
As well as making, repairing and restoring instruments we also offer a bow rehairing and repair service.
Our opening hours
| | |
| --- | --- |
| Monday | Closed |
| Tuesday | Closed |
| Wednesday | 10 a.m. to 6 p.m. |
| Thursday | 10 a.m. to 6 p.m. |
| Friday | 10 a.m. to 6 p.m. |
| Saturday | 10 a.m. to 6 p.m. |
| Sunday | Closed |
Outside of these hours we are concentrating on restoration work, but can be contacted on 01392 433748.
Thank you for looking!

Jonathan & Rebecca Springall